Outside Terminals Smoking Areas
There is one Smoking Cabin right outside 1st Departure Terminal (Near Mayiaas) and one After last Arrival Terminal (Behind the Left Luggage shop after Chai Point).
NEW: There is one big one available now in the Restaurant/Flea Market are outside the terminals, it's bigger, better and right next to the beer joints such as Windmill Craft, also there is a Cigarette shop next to it, enjoy: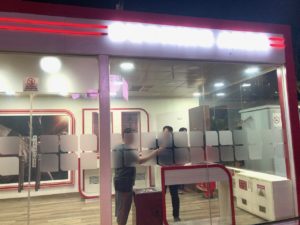 Smoking is allowed at Designated Smoking Areas, and Parking area.
Inside Terminals Smoking Areas
Domestic:
On first floor, take right after security check, take the escalator to first floor and find the Smoking Zone towards the right Side, also there is a Cigarette shop outside it: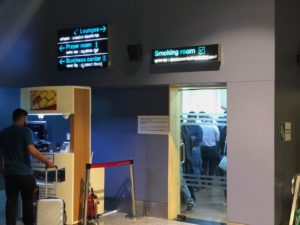 Latest Update: Smoking Zones' location has changed, a construction is going on at the old location.
There are 2 Smoking Cabins available now at first floor opposite Gate 16, stairs to reach there are from inside the "Taste of India" restaurant.
International:
1. Smoking Room Next to the Restrooms, right after the restaurants.
2. There is one Smoking Room in the end of the International Terminal, opposite Gate 44.